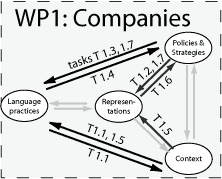 Work package 1: Companies
WP Manager: Partner 5 (LYON2)
Objectives
This work package aimed at studying business companies (from small businesses to multinational corporations) across the four dimensions and interrelations between them, while individual partners focused on specific dimensions and interrelations.
Research tasks
Task 1.1 (LYON2): Analysis of the ways in which social actors engaged in collaborative work in professional settings cope with their asymmetrically distributed language competences and transform rules and guidelines in a situated way.
Task 1.2 (GCAL): Identification of "good policies" elaborated by States by analysing the ways in which companies picture multilingualism, possible actions on multilingualism, and the role of multilingualism in defining the image of companies.
Task 1.3 (UNIBAS): Analysis and comprehension of the manner in which companies form linguistic strategies; measurement of the impact of the latter and confrontation of these with actual practices in these same companies.
Task1.4 (PARIS3): Observation of forms of multilingual interaction in the workplace and measurement of their effects on decision-making processes.
Task 1.5 (UMB): Analysis of language contact situations in internationally oriented companies in the Alsace, from the perspective of actors' perceptions (taking historical factors into account).
Task 1.6 (SDU): Analysis of representations of public and private actors with respect to the languages in contact, and examination of the relationship between these and language policies, both national and at company level.